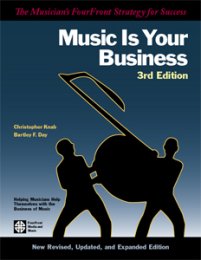 Electronic Book
PDF Version
Instant Download for $19.95!
Buy Now | View Cart

Purchase this 3rd Edition and we'll email you a free PDF update to the 4th edition (due in 2013) as soon as it's ready!
Music is Your Business
by Christopher Knab and Bart Day. | 270 Pages
3rd Edition

FALL SALE PRICES
Music is Your Business is available as a PDF download. Purchase this 3rd Edition and we'll email you a free PDF update to the 4th edition (due in 2013) as soon as it's ready!

Sale Ending Soon... Reg. $24.95
$19.95 PDF - Instant Download!

Do you have any questions about this book or the order process before you buy? We're glad to help! Just Ask!

---
A Message from David Nevue, founder of the Music Biz Academy...

As my readers know, I don't just promote any book here at the Academy. I'm a musician just like you, and I absolutely refuse to waste my (or anyone else's) time reading pointless, self-absorbed junk.

But this book, Music is Your Business: The Musician's FourFront Strategy for Success is, simply put, a must-read for anyone *serious* about developing a career in the music business. It's a rare gem, a book that gives you an inside look at the music business without all the ballyhoo. It's refreshingly straight-forward, and a real eye-opener for those who aren't privy to an insider's view of the business from both a music marketer's perspective and an entertainment law attorney's point of view. If you don't know this stuff, you're setting yourself up to be taken advantage of.

Get educated. Read this book.


---

Music Is Your Business,
by Christopher Knab and Bart Day, is filled with insights on the music business from the perspective of two industry insiders! Find out why so many musicians fail and how you can get the edge. Learn how to attract distributors, radio play, and create a demand for your music.
Music Is Your Business
includes Christopher's excellent flowcharts and graphs, demonstrating in simple terms how the industry operates. Sample artist bio, marketing plan examples, and checklists for jump-starting your career and/or running your own record label are all here. In addition, Entertainment Law Attorney Bart Day gives clear and concise advice on legal issues regarding releasing your own CD, recording and music publishing contract basics, as well as articles on various music licensing deals.

"The checklists you provide in your book for artists who are just starting out, or wanting to jump start their careers, are invaluable. I liked the "Artist Development questions, as well as the '35 Things To Consider When Starting Your Own Label'. You have saved me, and others, a lot of time by providing the questions we need to think about when preparing to market our music."

--- R. Wright,
Seattle, WA


You Will Learn...
How the music industry is divided into four distinct marketing "Fronts."

Why so many musicians fail, and how you can learn from their mistakes.

How to develop your music and music releases for the marketplace.

What goes into a Demo, Promo, and Press kit to get publicity.

How to attract distributors and stores and create a demand for your music.

What it takes to get music played on commercial and noncommercial radio.

How to use your live shows as a marketing tool.

Tips on promoting your music on the Internet and with new technologies.

What's inside a recording contract.

How to start your own music publishing company

Copyright basics, and tips on how to license your music.
New additions to the 3nd Edition include:

New samples of industry marketing documents including a distributor one-sheet, and marketing plan

Chart describing the many changes in the music business over the last 30 years

A sample band tour and work schedule.

Updated Internet marketing tips

Legal chapters by entertainment law attorney Bart Day including updated chapters on "Eight Types of Publishing Deals", "Licensing Music for Films, TV, Commercials and Computer Games", and "Producer Agreements...What's the Deal?."
Also included in the 3rd Edition are a helpful index, bookmarks, and easy to use links that take you directly to important music business related web sites. Music Is Your Business is your guide through the complex world of the music industry.
Download your copy now for only $19.95!
---
Order Now
Purchase this 3rd Edition and we'll email you a free PDF update to the 4th edition (due in 2013) as soon as it's ready!

Electronic Book
PDF Version. Download it for $19.95
Buy Now | View Cart

---
Please note that purchases will appear on your credit card as Midnight Rain Productions .
---